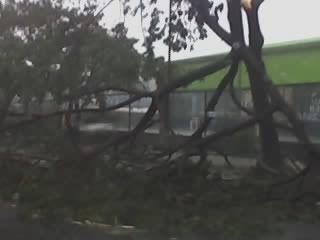 Last thursday, September 28, 2006, our country experienced another duel with mother nature in the form of typhoon
Milenyo
.
I was in the office then, and as the power went out, we decided to thwart the work day. The rain wasn't quite threatening at that time....so what to do? What to do? No power, no office---head to the mall!!! My friend Warren fetched me from the office and we headed to Robonson's Galleria to meet up with Nikki, we were contemplating on a movie and some shopping--nice!Driving there, the rain started to get all misty and the wind getting stronger. By the time we got to Galleria, we can already hear the rain and wind growing wild, even from the inside of the mall. We started to worry a nit, but then resigned to the idea that we are safe in the mall and we can leave when it subsides. As we were shopping around, the shops started to close up. We were told that they were closing up the store! WHAT??? What about your social obligation to us who are already here?? --I managed to joke. Soon enough we had to get out of the mall. The blocked off the entire middle area,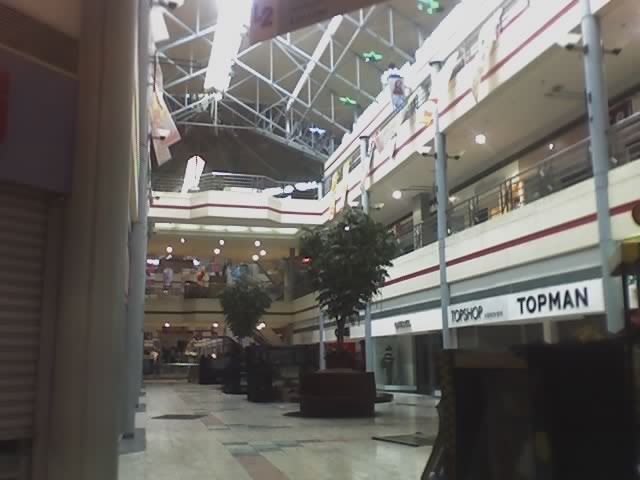 the roof of the sort of atrium was ripped, letting in the rain!!! Good thing the shops closed immediately, otherwise they'll be soaked!
It was around lunch time then, so we thought of having lunch before we left the mall. There were people already eating at the restaurants along the expansion wings. Some, like Dulcinea was already closed, but most were still open, like Mangan, Piadina, Bangus and Bacolod Inasal. We were deliberating on where to settle and eat. We decided on Mangan but alas, they were just letting the people who already ordered to finish up. Moving on we found out that none of the restos would accommodated us. Everybody was in a hurry to pack up and leave.
With an empty stomach we left the mall...and then met
Milenyo....
Perhaps we underestimated the magnitude of this typhoon as we were in awe at the sight of the condition of the metropolis. Uprooted trees all everywhere, signs and billboards knocked down, mini floods here and there....it was a sad sight and we felt guilty of thinkingof watching a movie and shopping amidst of it all.
We decided to wait it out at Nikki's house, which was the most proximate to our then on location. We drove through KFC to get take out. They were closed up as well, but they sold us what was ready and available then---only wings! hehehe No time to fuss around chicken parts, we got our food and left for safety.
Despite of the weather condition, we managed to enjoy our wings and have good laughs through the aftrnoon. The rain subsided and we decided to get coffee and then get me home. Can you believe starbucks in Libis and Corinthian Hills were both closed! NOOOOOOO!!!!! We went to Katipunan and good thing Kopi Roti was open. No airconditioning, but open. We had coffee and hanged a bit. I think it was the only shop, besides McDo and Jollibee, that was open as alot of people came in soon after we did. We even bumped into my friends Holden and Edi....hehehe crazy people, in a crazy storm and doin the same crazy things@! hahaha War brought me and Nikki to our respective homes safety and soundly....only to find out----NO POWER in all of our houses and weak Globe signal to boot!!!! Talk about adding insult to injury! But lucky for me, I only suffered the power outage for roughly 30 minutes. YEY!!! Meralco loves our Village! hahaha... I was even able to watch some korean telenovela and the news!
Hope all is safe now. I pray for the people who were more gravely affected by the awfull storm and thank dear God that my family, friends, loved ones and I are all safe through it all.