Nicole and I had our joint birthday celebration at Oli's house in Tagaytay. Bentot picked me up from the office around 230pm, we went back to his house and shortly after, Oli picked us up and we headed to Nikki's house. Their village was having their annual Treat orTreat, which slowed us down because the streets were teeming with creepy and cutely clad youngin's. We had a heavy meryenda of Tomato Basil Pasta with grilled chicken, Chicken Fingers from Chili's and a bowl of Clams =)----yummy.
After having our tanks "filled up" (thanks kiki and SB!) off to Tagaytay we went!!! We sang along silly love songs as we traversed the south bound traffic. We got there around 7pm, some of Nikki's friends were already there. When War and the others arrived, the boys wabted to have dinner at Mushroom bugrer...so pinagbigyan na ng mga girls....
Its my first time to eat at mushroom burger, so it was quite interesting. Well, as expected, everything had mushrooms! hehehehe They had sandwiches and rice meals as well as pasta and soup. The prices are very affordable though the place needed a little brightening up.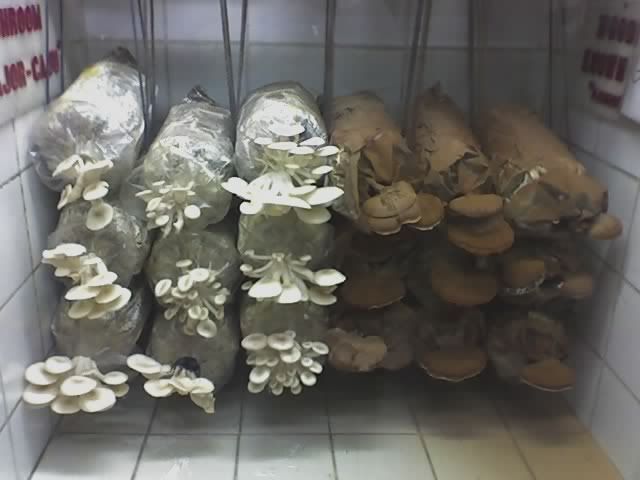 Oyster and Shitake Mushrooms
Pinoy Longanisa-Mushroom Burger and Black Gulaman on the side
This is what I had for dinner. I guess incorporating minced mushrooms with the longanisa makes it lighter and healthier than the average longanisa patty. Not bad for 24 bucks! The black gulaman was more expesive pa at Php26! hahahaha
After having our mushroomy dinner, we went back to the house to start the party! More of our friends arrived later that evening. It was a long and fun-filled evening---thank you to everyone who came =)
Surprisingly a lot got up early the morning after. We had our breakfast of Jollibee---all had Super breakfast meals as we were famished from partying hahaha! We hanged around watching episodes of the Entourage. Nikki and I drove around the village to check out the other houses. We even saw this cute little pup on the porch of one house--awww =). After that we returned to the house to watch some more. It was around 2pm that we all decided to pack up and have late lunch and head back home. We chose to eat at LZM. We had bulalo, inihaw na liempo, lechon kawali and pancit. Ahhhh, another great artery clogging feast! heheheeh
We parted ways...Oli, Ven and Mara went back together, and Nikki, War and I went with Matt. We were all tired during the trip back. Thank you Oli and Matthew for driving =)
What a great post birthday celebration. Thank you Oli for letting us party at your house...thank you Matt for being sooo caring thank you, thank you. To Bentot, War, Mara, Eliz, Che, Kent, Adam, Gwen, Gretch, Alfonse, Dino and Paj thank you all for coming!
To Nikki-kiki...luv yah girl! =)hahaha