Since I got home kinda late Saturday night, my very thoughtful friend Sal suggested that we don't meet in the morning for our Sunday walking. I wasn't able to detest since I read her message at 9am already =). One of the rare instance that I didn't get up early in spite of sleeping in very late…or rather early in the morning. Good thing also because I just remember then that I had to bring my shobe Bakekang to CSB for her entrance exam! We had brunch at home and hurried to Taft to avoid any unforeseen traffic.
We got there just in time and my other sis Che ushered her to the gate. The exam was set 1pm till 530 pm. My sis and I decided to hang at SM Mall of Asa to kill time. We shopped for beauty stuff and had merienda of waffle time and mister donut coffee (nagtitipid kase kame =)). Sal then texted me and asked me if I wanted to have dinner with her. I of course said yes =) There was a promo going on at the Motoral shop at MOA so I moseyed in and looked for a phone that I can use as my SUN cell. I've been meaning to get a new phone and get SUN because most of my friends are SUN users and they were all convincing me that it will be more convenient and tipid if I had SUN. So I got a new Moto and bought a SUN sim. Oh joy! First thing I did was contact Nikki and Oli. It was great to be under SUN =)
We fetched our shobe at CSB and got her Jollihotdog. She was famished from her test. I had my sisterd drop me off at Starbuck's in Morato and I told Sal that I'll just wait for her there. I was SUNshipping with Nikki as I waited…and the time just flew on by. Before I knew it, Sal was there to pick me up.
We went to Fleur d Lys to have dinner. We shared the Fettuccine with Aligue sauce and tried their bacon waffles
Aligue Pasta

The pasta was good but nothing great. The bacon waffle was not at all like what we had expected
Waffles with Bacon and Egg
The waffle---just one square, like the size of frozen waffle or like the waffle sold at Starbucks. We also thought that the bacon would be incorporated IN the waffle, like in Pancake house. They served the bacon (which was more ham-ish than my imagined crispy fried pork strips) on the side, along with the fried egg. It tasted ok but we were just taken a-back by the miniscule size. Nevertheless, we were caught up with being together and enjoying our conversation, that we didn't mind the food as much as I am minding it now.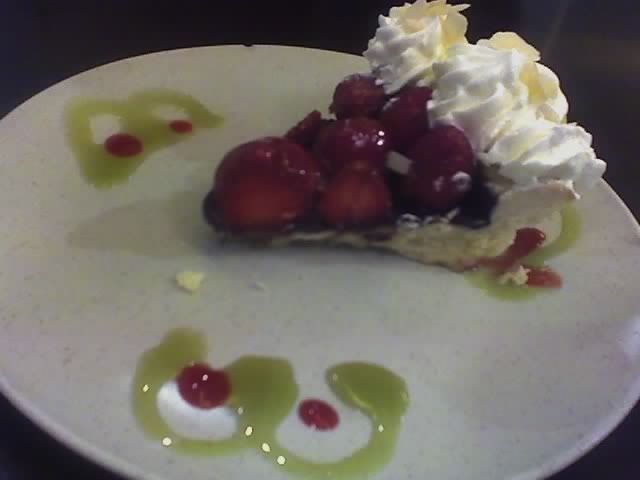 Strawberry Pie
For dessert, we had the Strawberry pie. It was fresh Straberries on a short bread-like crust with chocolate ganache in between. It was actually good but the slice….was tooo small! Way too small for the price. It was more than 100 bucks a pop and we feel a bit short changed with the serving.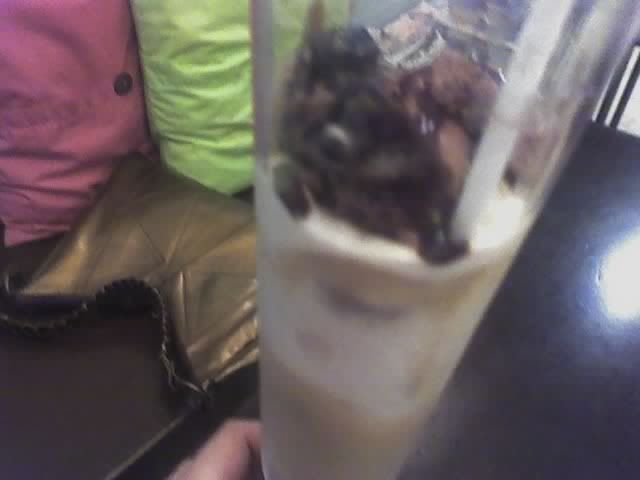 We also shared an order of the coffee jelly frap. It was cool and refreshing =)
I've eaten at Fleur several times already. I liked their crabmeat panini and the salad with grapes. The dark mocha is great there as well. As for the cakes, I like the macadamia nut pie served with a small dollop of ice cream and their NEXT BEST THING is great as well.